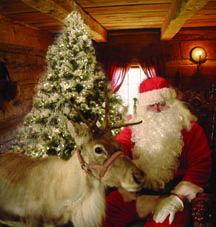 Hi, George here again. So Halloween is over, it was sooo much fun here at Glendeer for it, I wasn't a bit afraid, so if Gina says I was don't believe her. She thought I was scared of the ghouls coming out of the grave in the Forbidden Forest but I was only pretending…honestly I was!
Anyway that's over & Christmas is only around the corner which is brilliant coz I'm missing you all now that the farm is closed. But don't worry there's lots of work going on at the moment (I'm keeping an eye on it all) because Glendeer is being transformed into Ireland's Lapland, it's so exciting!
The big news buzzing around the farm this week according to Ewdard the emu who was told by Mia the llama (she's usually right) that Santa Claus is going to make his annual appearance again this year, it's such good news! I think he enjoys coming to see us animals, he's always laughing & smiling, he's so jolly.
So the farm is reopening on Sat 3rd Dec @ 5pm when the big man in the red suit arrives by horse drawn sleigh & he will be here with Dancer & Prancer of course until 23rd Dec when he has to fly back to the North Pole to load the sleigh for his busiest night – Christmas Eve! Unfortunately Rudolph can't come as he's very busy preparing the other reindeer for their long journey.
Oh I have to go & write my letter to Santa now, I just can't wait!
Talk to you all soon,
From a very excited monkey,
George the Capuchin, xxx