Hi it's me again, George the Monkey! I haven't been writing much in the last while but it's getting exciting on the farm again. I just love Spring, the lambs are jumping, the chicks are hatching and I think we even have some babies bunny born just the other day!
All of the humans are running around tiding and painting so the farm must be reopening very soon. I'm told it's St. Patrick's Day and then the farm is open everyday until the end of September. It's so much fun when the farm is open, I love to seen all the small visitors coming to the farm. They all make funny faces and I like to copy som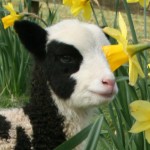 e of their funny expressions.
I have also heard from the goats, they live next door, that Easter is really early this year. That means that the annual Easter eggs hunts are starting on Saturday the 26th of March and are on Sunday and Monday as well at 3pm each day. It's so exciting, everyone gathers at the nature walk gate and all the kids race all over the huge field searching for the Easter eggs! I wonder will you be fast enough to find the chocolate treasures. Well I better go now, Gina my wife is calling me, I think I see the llamas out for a walk. Bye for now!