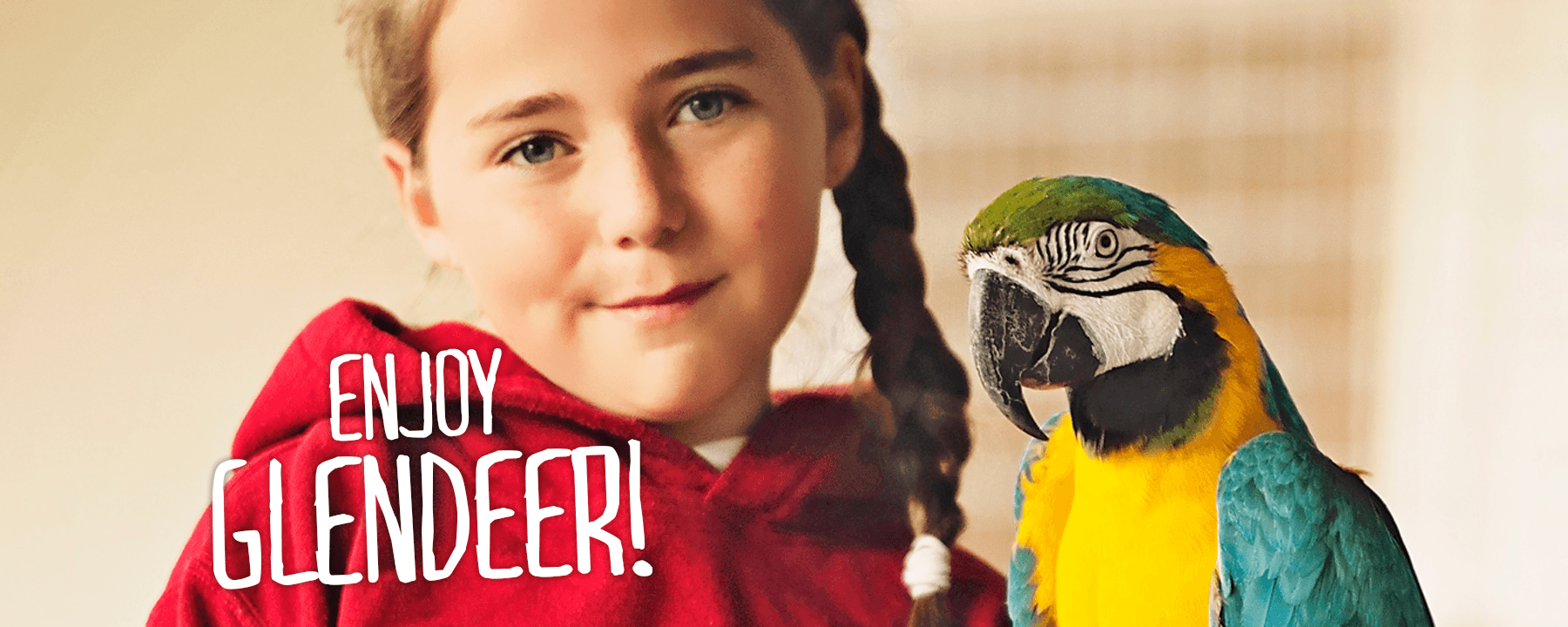 Our Farm
Glendeer Pet Farm is an award winning open farm .
It is an unforgettable, interactive experience where you can pet and even hold the baby animals such as puppies, chicks and guinea pigs.
Children will also get a bag of food to feed some of the animals such as goats, sheep, emu, donkeys, cows, llama and lots more. You also get to see some more exotic animals up close like our cheeky monkeys; George and Gina, the wallabies, the parrots and Honey the raccoon.
It is a safe and carefree environment for children of any age, whether they prefer to entertain themselves in our outdoor or indoor playgrounds or with the many animals on the farm. There really is something for all ages; from the zipline, double obstacle course and maze for the big kids to the fairy trail, sand barn and soft play area for the smaller kids. Some of these and more are undercover areas for those wet days, so don't let the weather put you off!
Visitors to Glendeer Pet Farm
Visitors are welcome to bring along a packed lunch and picnic in one of the many allocated areas (indoor or out), just beware as some of the friendly hens might join you! Our coffee shop also sells light refreshments and souvenirs.
While the kids are burning off some energy in the outdoor or indoor playgrounds mums and dads can have a well-earned rest with a takeaway tea/coffee and a nice treat.
What's great about Glendeer is that 'big kids' can enjoy it just as much too! While the children love the playgrounds the parents seem to really enjoy our old 1850's restored cottage or taking a stroll along our nature walk which has recently become home to quite a few interesting little fairies.
The Nature Walk at Glendeer
Our unspoilt peaceful nature walk is in close proximity to the pet farm and is part of an old mass path, reminiscent of bygone days that appeals to both young and old. If you are looking for a walk with a bit of a difference, you'll find it here at Glendeer Pet Farm.
Our Nature walk is an adventure for young and old!
Nature has turned this path into a very interesting and character-filled walk as the various trees that are found along the way have come together to form a cosy, natural, cave-like path. The path twists and winds unexpectedly around each corner making it a fun and interesting walk! It is less than half a mile long so it is more than manageable for most and keeps you interested as you go along.
Enjoy a stroll in the freedom of the countryside while viewing the large selection of animals and birds. Although our pet farm is wheelchair accessible, unfortunately the nature walk is a bit rougher terrain & might be difficult for wheelchair and buggy access due to tree roots.
A picture paints a thousand words
Visitor Review